A trip to the local library with my Cub and her sweet friend allowed for time to browse my fave section of the library-the cookbooks!
I found three books that I am really enjoying. I've listed them in order, saving the best for last.
The Everything Vegan Cookbook
is a great basic cookbook that reinvents the classic comfort foods (like "Deli Macaroni Salad") and some yummy desserts for this sweet tooth ("Sweetheart Raspberry Lemon Cupcakes!")
The Daily Bean
: I never met a bean I didn't like and I have been eating them almost daily for protein as well as enjoyment. I love this book. It is divided into chapters according to bean variety. So far, it all looks very yummy...especially the desserts. This evening, I think I'm going to have to try out the "Pinto Bean Carrot Cake." It just looks so good.
And my Cub loves her carrot cake!
This
is a book I have been wanting to read for the looooongest time and just have not had the chance. I will definitely buy it.
After some resistance, I have come to really admire Alicia Silverstone.
Yes, she has come a long way since Clueless!
I read this book in one day and made a lot of notes about diet and food in general.
The Kind Diet focuses on diet, eating for optimum health and self-improvement with respect for all living beings on our planet.
She breaks everything down in easily understandable terms and gives a lot of medical/nutritional information to support her food choices.
I highly recommend it...and the recipes look tasty, too.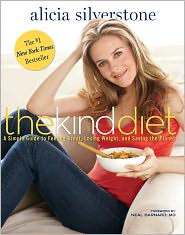 To me, a person who reads cookbooks and recipe/food blogs for fun...there is nothing more inspirational than expanding my knowledge of the food I eat
and refining my skills to make each meal beneficial
for the greater good.
Blessings and happy eating, Everyone!